The internet is good for many things. One of the most beloved attributes of the internet is that it can make you a millionaire overnight – not literally but a million view is something, right? and that is perhaps still even an understatement.
So many people have found fame and wealth in monetizing the internet by indulging in a variety of things on the world wide web such as blogging, marketing, and freelancing. One of such ways is how to successfully start a YouTube channel.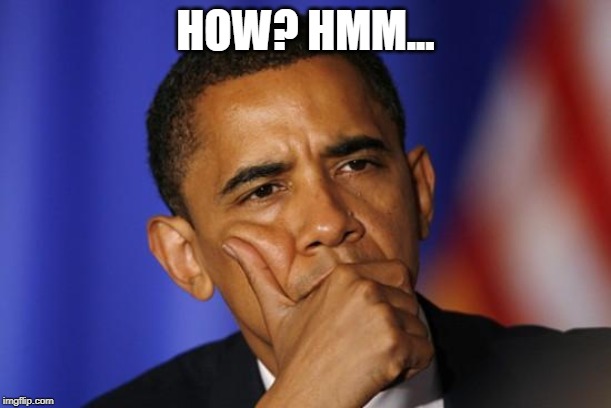 The question you might find yourself asking now is: "How?"
How to Successfully Make Money On Youtube
Believe me, it is not an easy job becoming a successful YouTuber. If you ask or take a look through the interviews of people making it through YouTube, you will come to realize it will take everything, except if you're just lucky or already a celebrity.
And by everything, I'm talking about your time, energy, and a ton of patience.
Greatness takes time and the first step in being a successful YouTube channel is fully being aware of what it will take. Other things you want to take note of are:
1. Know Your Audience
One of the biggest mistakes a business owner can make is not targeting a specific audience for what they're selling. It is a mistake that can blow up the whole business.
Take a scenario where a startup comic book company says they're producing comics for people of all ages. You can imagine how hard marketing will be.
But imagine they picked a particular age range (17-40). Now that's easier. Same goes for the business of creating a YouTube channel. Who is your audience? Old? Young? What age exactly?
If you can figure this out, you've proven yourself worthy of becoming a Youtuber (No Mjolnir for you though).
2. Plan Your Content
Benjamin Franklin said, "By failing to prepare, you are preparing to fail."
It's simple. First, you have to figure out what your content is: what exactly do you do? What exactly are you offering to the world? Are you a makeup artist? A comedian? A musical artist? Etc.
After that, you want to start thinking about how you're going to be bringing the content to viewers, in terms of consistency and quality. Consistency is key when it comes to building a Youtube channel, but there is such a thing as overdoing it. This leads to a reduction in quality.
3. Get The Camera Right Equipment
Quality becomes the main thing here. Without the right equipment, I'm afraid you're set up for a very rocky ride.
Let's assume you're a vlogger, and you want to start putting your content on YouTube. Now this means you'll need a good video camera (we got you cover)- and preferably a very good one, along with a tripod, a microphone, etc. and let us tell you what, missing one would be a fatal sin for Youtubers.
If all you have is, however, a microphone and a camera without the tripod stand, we bet you will be having a hard time with blurring photos or shaking video frame. We haven't even mentioned all those time-lapse footage.
The point is, you want to get the right equipment. Your video quality is everything when it comes to Youtubing.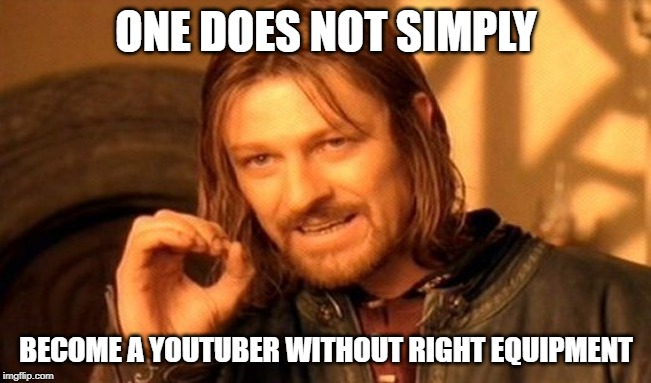 4. Start With Simple Editing Software
To be a successful YouTuber, you have to know how to edit videos. It should be your bread and butter.
Of course, you could go ahead and hire someone for it, but that will take a lot of cash and you are not learning anything. Most of the successful YouTubers who have made their stand on YouTube, edit their own videos from the start.
Editing videos isn't as easy as it sounds, so before going on YouTube, you need to know how to tell your story. Start with a simple editing software. That way, you get to learn the basics of video editing, and you will improve from there.
We have recommended these apps here for your Youtube career to be easier
5. Optimize Your Videos (start with basic video SEO)
Search Engine Optimization is a way of "increasing the quality and quantity of website traffic by increasing the visibility of a website or a web page to users of a web search engine."
Video SEO is used by a lot of YouTubers out there to improve their search engine rankings and increase their channel's visibility or recommended algorithm in search engine results page. How do you do that?
– Do YouTube keyword research.
– Optimize your video title.
– Optimize your video description.
– Feature a good video thumbnail.
– Add the appropriate tags to your video.
– Share the video on social media.
6. Understand How Views Rule YouTube Rankings
We can't just talk about optimizing your video without telling you about views.
The number of views you have determines the position you're on YouTube charts. Just like how your ranking will be affected by likes, your ranking also gets affected by the number of views your channel gathers.
Now that you know this, there are many ways to get the views needed to push up the food chain. You could share the video or channel link on other social media networks, or if your video or channel is significant, you can target certain sites and blogs, and reach out to them. When people go to such sites and find your video. Not all, but some of them would be tempted to check out the video, and that increases your views and ultimately your place on YouTube rankings.
7. Build Your Network
The ultimate way to become a successful YouTuber is having a very large relationship cycle, which also means building your network.
Here are some steps to help you build your Youtube network.
Attend conferences specifically designed for YouTubers
Reach out to other YouTubers. Talk to them.
Add them on Facebook or Twitter and interact with their audience.
It is only when you do these things that your cycle of network widens. From the connections you gain, you learn, and also grow both as a person and a Youtuber.
8. Engage With Your Community
You do not want to be seen as a stuck-up person. Typically, being a Youtuber means you have to communicate with a ton of people, even people you wouldn't normally relate with.
It's the job. But if you think "yeah, you can be a successful Youtuber without engaging with your community", you are far from the truth. How will your channel grow if you don't interact?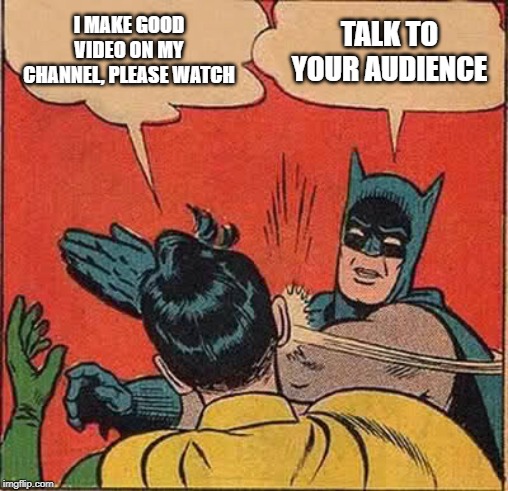 Interaction is what makes a business alive. Without interaction, you have no connection to your audience. Try out some of these steps to engage with your community:
– Put some members on the spotlight
– Birth open-ended content
– Try humor (people love a good laugh)
– Not just YouTube. Try using different social media to engage with them.
– Avoid negativity…at all cost.
9. Ignore All The Negative Comments
Negativity is the death of every good thing in life. It brings down your spirits, dampens your ambition, and throws you off your game.
To become a successful Youtuber, one thing is sure to come your way – negativity, in forms of negative comments. Not everyone would like what you're selling. People will hate it, people would curse you for it, and people will send hate mails or even threats for you. What differentiates between success and failure is the ability to ignore negativity even if it resides in your DM.
10. Upload Videos Regularly
What did we say about consistency? Consistency is the art of doing something constantly at a regular pace and rhythm.
Failure to be consistent also leads to death of greatness. If you're starting a Youtube channel, it is widely recommended that you already have relevant videos piled up, waiting to be released. This way, you will always have videos to upload and regularly.
11. Analyze, Optimize, Repeat (A.O.R)
After you've set up a YouTube channel, and perhaps had your first one hundred views or likes. This is the time to take a closer look at your channel. There are many ways through which you can optimize your channel and its videos. The "how's" are all over the internet. But make sure you do not stick to one.
Here is what we would suggest: Analyze and optimize your channel after every couple of weeks. The idea is optimizing your channel every now and then, adapting to times so that your channel would remain relevant in YouTube rankings.
FAQ
1. What is the average salary of a YouTuber?
The average salary of a Youtuber varies depending on the number of views they get, and the number of ad clicks they get on their video. To simplify, a YouTubers will get between $3 to $15 for 1000 views, and this depends on the topic. Every ad click would also give you some money, but it depends on where the click is happening.
2. Can YouTubing be a career?
Absolutely! If you have something you think the world would want to see, then you can definitely make a career out of it.
3. How much money does a YouTube video with 1 million views make?
If a Youtube video with 1000 views would make between $2 to $15 depending on many elements (audience country, topic, etc.). For calculation's sake, let's just make that $3. Therefore, a youtube video with one million views would make $2000.
4. Is YouTube worth starting?
So, why becoming a Youtuber? Even kids want to have their own Youtube channel.
It is worth starting? It is a great way to start making money, and the best part is, you don't even need a college degree to get started!
5. What every YouTuber needs?
A YouTuber should have a camera, tripod, external microphone, and video editing software and some editing skills.
6. How do you monetize your youtube account?
It's pretty basic. You have to:
– Sign in to your YouTube account.
– Select your account icon in the top right corner.
– Click on the Creator Studio option.
– In the left menu, choose "channel", then status and features.
– Click on the "Enable" option in the Monetization section.
– Afterward, follow the steps and accept YouTube terms.
– After you're done with that, create a Google AdSense account, and link to your YouTube account.
7. What editing program do Youtubers use?
There are a lot of programs you can indulge in. But you should check out these: Adobe Premiere Elements 11, Adobe video editor, Pinnacle Studio 20, iMovie, YouTube video editor, etc.
Bottom Line
The road to having a successful YouTube channel lies above, but you should do some more research by yourself. Remember, success takes time. Greatness takes time. Be prepared for that and the many other challenges that might come up.
Do not give up.